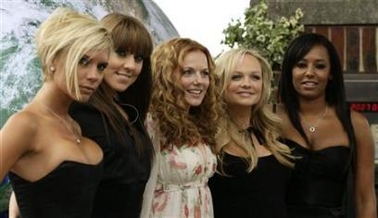 Origin: London, England
Genre(s): Pop, Europop,
Years active: 1994–2001, 2007–
Label(s): Virgin (1995–2001), 19 (2007-present)
Website: http://www.thespicegirls.com
Members
Victoria Beckham (1994-2000, 2007-)
Melanie Brown (1994-2000, 2007-)
Emma Bunton (1994-2000, 2007-)
Melanie Chisholm (1994-2000, 2007-)
Geri Halliwell (1994-1998, 2007-)
The Spice Girls are a BRIT Award-winning English all-female pop group, which formed in London in 1994.
The group signed to Virgin Records and released their debut single, "Wannabe", in 1996.
The song went to spend seven weeks at the top of the UK singles chart and helped establish the group as an "international phenomenon" who went on to release three studio albums and ten singles, selling in excess of 53 million records world wide.
Spice Girls announce Reunion Tour